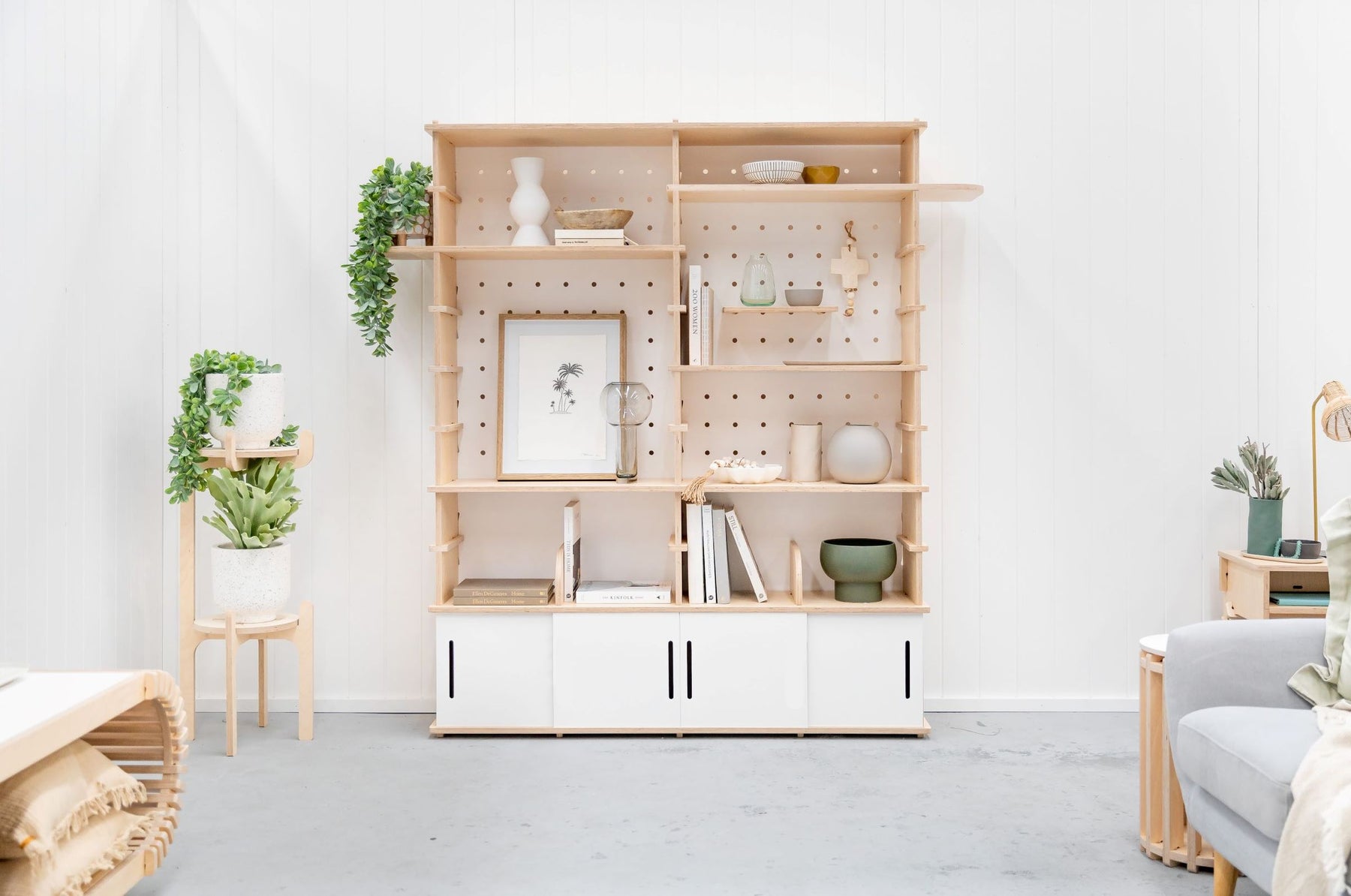 How to absolutely optimise your home storage situation
There is nothing more frustrating than an unorganised home. Okay, there are many, many more things more frustrating than an unorganised home, but it's still pretty frustrating. 
When the home is unorganised it falls victim to all of an unorganised home's pitfalls: clothes strewn across the floor, cooking appliances and their contents left splattered across the kitchen bench, Sunday Life magazines hanging tentatively off the coffee table - the list goes on and on and… 
But you know it doesn't have to be this way, and we know it, too, because there are near-countless ways you can optimise your home's storage without going overboard or busting your fortnightly budget! 
Check out these absolutely miraculous hacks for ensuring your home is clean, clutter free and inviting (without the fear of tripping on, say, a wet and sandy beach towel in the entry).
Shelve up your walls
 Look up at your walls - what do you see? You might see a shabby Van Gogh print, maybe a poster from some movie you never saw, maybe some Kodaks from a trip three years ago but now feels like it was in a past lifetime. 
But walls can also be used for shelving, with the results not only being outrageously functional, but also pretty elegant, too. All you have to do is line your walls with one single shelving unit and you will have added numerous feet of storage space to a home that might have otherwise been lacking in such a necessity. 
Once you start filling the shelves, you will not only realise that this was an ultimate storage solution, but books and pot plants on display along the wall look pretty darn cool, too…
The old empty corner clothes rack trick 
Has your wardrobe outgrown your wardrobe? Do you have jumpers and t-shirts strewn across the classic storage chair because your closet simply doesn't have the space for your fashionable "needs"? 
One way to counter this is to install a clothes rack into an unused corner of your room. This makes hanging all those clothes that would otherwise go on the infamous chairn a breeze, and it doubles as another stylish aesthetic move.
The storage bed is the ultra bed 
Who said beds should just be made for sleeping? Furniture design has come a long way since the days of the antiquated, giant wooden monstrosity that looks straight out of an early Dracula movie. 
Today, you can find absolutely stunning beds that not only provide you with an uber-cosy night's sleep but will also allow you to store some of your worldly possessions in its frame for when it's time to get some shut eye.
Your laundry hamper can hang off the door 
Laundry hampers come in all shapes and sizes, but more often-than-not they seem to be big, clunky woven items that seem to jut out across one's bedroom. But they're not all like this, as they also come in designs that can be easily hung off your bedroom door so that you can simply pop dirty clothes in there like it's nothing.
Pick up top quality storage solutions 
Storage optimisation isn't all about cheeky hacks - sometimes you just gotta grab some awesome components that ensure whatever it is you need storing most, you can easily do so. 
IsoKing is a place revered for the creation of top class storage solutions, with everything from double pot plant stands to partition peg boards, elegant beds and guitar stands all part of our growing collection of seriously elegant storage solutions. 
What's more, we work hand-in-hand with an amazing Aussie organisation helping our artists through the absolute shambles of existence that has been the pandemic period. 
We proudly donate 1% of all profits to the wonderful Support Act, who work hard to provide services to Aussie artists in tough times like those we have experienced in the past couple of years. 
So, when you pick up a super luxe storage solution from the IsoKIng online store, you can store your goods with the knowledge that your purchase is helping some amazingly talented people in an outrageously difficult period for the arts industry.