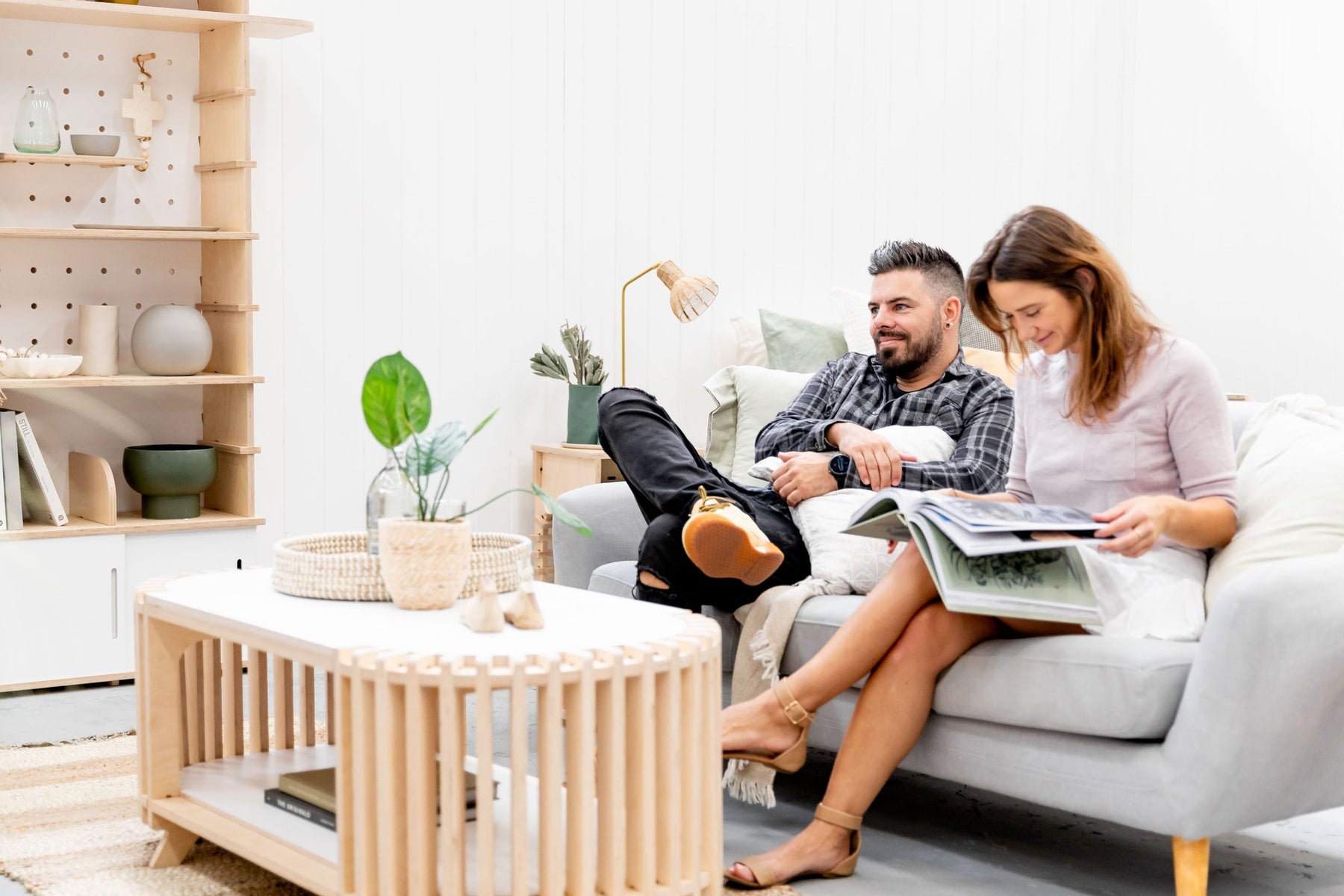 7 tips for styling your coffee table like a pro
The coffee table is a fascinating piece of furniture. We've all got them, but we all too often let them become dishevelled and unsightly. Why? Because the coffee table is often treated like the home decor equivalent of a rubbish tip, with old Sunday Life magazines, utility bills, worn-out stationary and drink glasses strewn across them like it's no one's business. 
This all makes sense, after all, as the coffee table is at sofa level and can be easily used to replace the kitchen bin when we're feeling a little... listless (but actually just lazy). 
But it doesn't necessarily have to be this way: with a little effort your coffee table can be a centrepiece of style; a go-to of home glamour that is the envy of all your latte-sipping sociables. 
Here are some tips for styling your tavolino da caffè like an expert.
Compartmentalise your stacking 
Because nothing looks shabbier on a coffee table than items thrown around in all kinds of random positions. Instead, the best way to give your coffee table a clean and stylish design is to compartmentalise your stacking. 
How do you do this? By laying down some loose sticky tape on the table so that it forms clear cut sections where you can then start grouping like objects together.
The magic number 
When compartmentalising your coffee table, try to make a grid of three separate sections. This way, you will be able to see what looks best and where on the table, and this is especially so for bigger items. 
If you have a few smaller items that can be grouped into their own sections, try and keep them separate from the gridded sections that are reserved for the larger items - this will give it a nice, elegant aesthetic.
Balance the goodies 
Endless knick-knacks and trinkets thrown across a coffee table make it look cluttered and downright ridiculous. Conversely, a coffee table covered in giant cookbooks from the 80s makes it look stale and clunky.
 So, what is the remedy for this wayward table design floor? Balancing your items, of course! Start from the heavy items, grouping them together, before placing little trinkles on top of them if possible. 
For example, you might like to place the biggest books on the bottom, working upwards before placing one of those trinkets on top as something to pick up before grabbing the cookbook of your choice.
Use raisers 
If you really want your stylish coffee table ornaments to pop - use raisers. Because, you might have some old sentimental-yet-rather dated book on the table with a nice new ornament. 
The thing is, if they are both at eye level then it will be hard to notice either of them for the sum of their parts. Instead, place the nice new ornament on a stylish raiser so that visitors can see both your nice new trinket and those older books that give the table a vintage vibe.
Get seasonal 
If you really want to step up your interior design game then the best place to start is the coffee table. You can create a seasonal vibe throughout the home by starting right where you sip your morning espresso, just by adding different seasonal ornaments when they come around. 
For example, you might want to place fresh flowers in a vase when spring comes around the flowers are blooming. For summer, you might want to give the table a beachy vibe with some clean shells and a yacht ornament. 
The choice is yours and up to your own personal style - either way it gives the table, and the room, an elegant vibe at all times of the year.
Colour contrasts 
This kind of relates back to the previous tip, as you want things to be able to stand out on their own without being meshed in with other goodies. So, if you are styling your coffee table from scratch and on the hunt for some brand new or op-shopped goodies be sure to look for items that contrast in colour. 
Not only does multiple hues give the table a vibrant aesthetic, but visitors will be able to easily differentiate between the items placed on the table.
Choose a side for bigger spaces 
If your table has quite a bit of space but not too many goodies to fill it with - keep those goodies to one side. Naturally, you don't want to engulf all the space with the small number of knick knacks you have, only to stop yourself, family and visitors from being able to use the table. 
The coffee table, whilst being a great place for showing off some nice ornaments, was originally designed for holding coffee cups - allow it to perform its original function by minimising the space on which you place your ornaments.