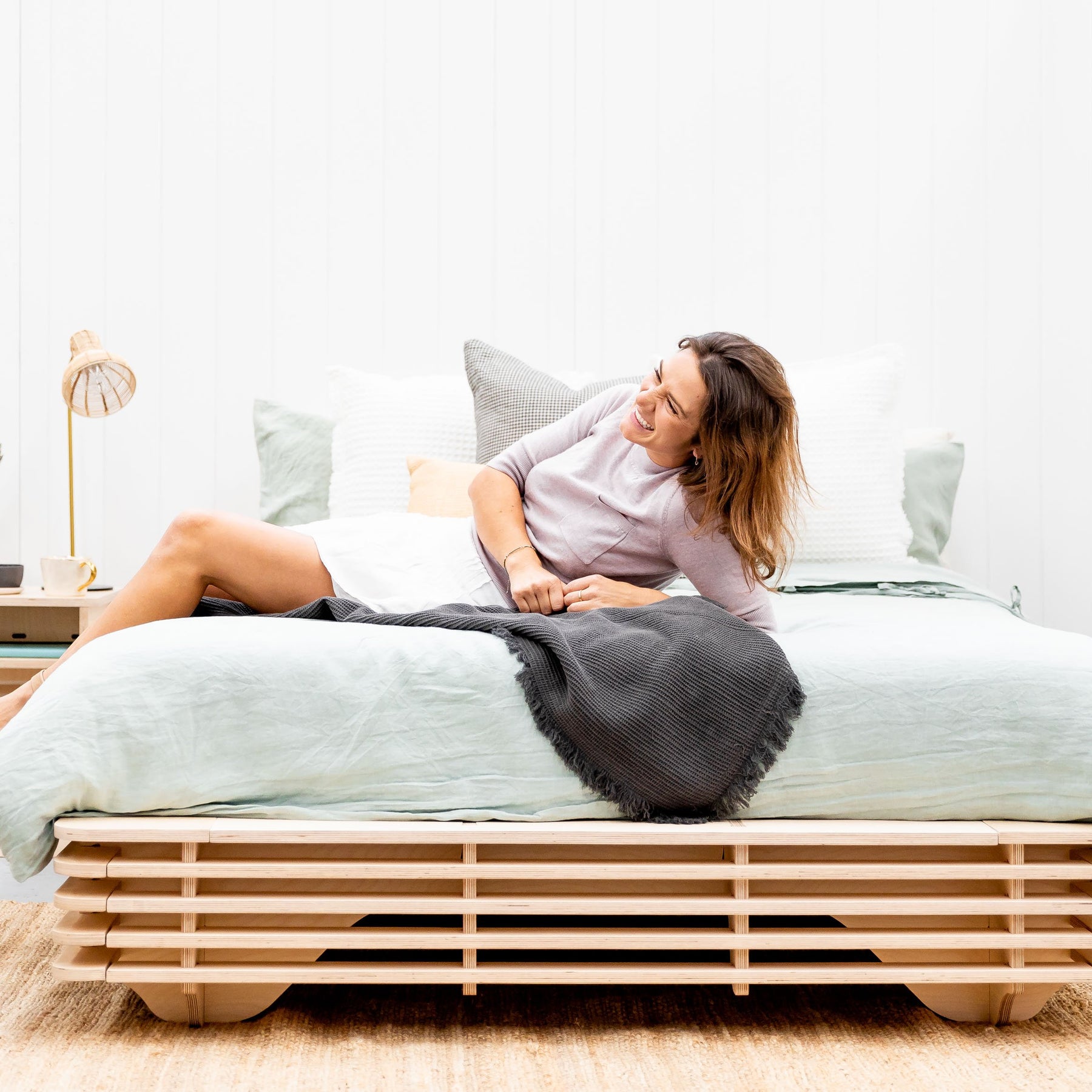 Sleeping in style: why a quality bed is so important for your health
We all know the importance of a good night's sleep, so thankfully we can surpass that chat and move right onto actually getting a good night's sleep. There is no use jumping into a subpar bed thinking you're about to sleep well and wake up feeling alert, rested and in the groove - it just doesn't work that way. 
The importance of having a quality bed cannot be negated. If you have too often found yourself relying on a shoddy mattress situated atop a bunch of milk crates stolen from your local Woolies then it's time to reconsider how you sleep at night..? 
The below are some of the wondrous health benefits attributed to having a good quality bed framing a comfortable, ergonomic mattress. 
Check them out and consider whether your snoozing is supporting your health.
Quality beds are simply cosier! 
A high quality bed and mattress can easily provide the comfort your body richly deserves after a hard day's yakka. Everyone's body is different, and each has their own requirements when it comes to getting oh so cosy after you've been slugging it out all day, so it's good to consider how you want your bed to support you and keep you comfy when you sleep. 
Do you need a bed that supports your shoulders during sleep? Or, are you someone who loves nothing more than jumping onto a soft, cushy mattress that gives you the sense of chilling on a cloud? 
Comfort is key to a good night's sleep, and a high quality bed and mattress can help you get just that.
They relieve stress 
One of the best things to do in a state of stress is to get under the covers and rest up on a cosy bed. Not only is it a great way to alleviate stress, but a good, comfy night's sleep can reduce everyday stress. Think about it: do you find yourself crankier, more irritable and, ultimately, more stressed after a big night out or a subpar sleep? This is where the wonders of a quality bed and cosy mattress come into play.
They can help prevent health problems 
High quality beds and mattresses can do wonders for your health. Think about it, your body is regenerating during sleep, so it comes as no surprise that a poor night's sleep (due to a shoddy bed sitch) can cause all kinds of health problems! 
Conversely, a good quality bed can help prevent chronic back pain, allergies, asthma, shoulder pain and much, much more. This isn't only due to the fact that they provide the comfort you need to have a ripper sleep, but they prevent a host of nasty critters and particles building up on your mattress (ew).
It's good for brain health 
The brain functions at a much higher rate post-awesome sleep. By sleeping well, you are promoting healthy brain function and that allows it to work even harder during the day. When we sleep, our bodies renew cells and produce hormones that are imperative to ensuring your organs are well-functioning and working efficiently. So not only is a good night's sleep central to a healthy, happy brain; it's also vital for our general health and wellbeing. 
They can help you lose weight 
This may come as a surprise, but a quality bed and good night's sleep can work as a fat burner. But how can this be? After all, you're not exactly engaging in rigorous exercise when you sleep, but your metabolism actually starts working throughout a sleep cycle and can help you burn fat without doing anything! 
Conversely, your body produces extra ghrelin and less leptin when you have a bad night's sleep and this, unfortunately, makes you feel hungry and irritable. And if that wasn't enough, the human body has a cheeky little tendency to store fat for energy after a poor night's sleep, meaning you don't burn off as much throughout the day!
A good night's sleep improves your memory
The better night's sleep you've had, the better your brain functions. While we may be asleep, our brains are doing all kinds of work, processing the day's events, taking in important details and placing them in our memories. Our brains interpret emotions, remember feelings of the day and create links regarding the day's events and other brain functions. 
The better the sleep we have, the more our memory will improve and we'll be able to process the things that happen to us a lot more efficiently. This increases brain clarity as it connects the minor details together and can help with overall brain function.  
While many people roll on with their shoddy bed frames and even worse mattresses thinking it's all fine, they are most likely doing their body a disservice. A good day and overall wellbeing has many interlinking factors, and one of those is easily that of a good night's sleep. 
It's something that should never be overlooked when it comes to your health, and can be achieved with the right bed that is suitable for you!
Find those amazing frames right here at IsoKing 
Yes, IsoKing is the designer and producer of a range of stunning, high quality bed frames that can potentially help you reap all these amazing benefits! Our bed frames from our Florence range are designed with optimal comfort and ergonomics in mind, ensuring you get an awesome night's sleep in the hope of improving your memory, reducing stress and improving your overall health and wellbeing. 
Not only that, but our bed frames are some of the most elegant and stylish to be plonked into the market in years. Why? Because the IsoKing design team consists of a raft of incredibly talented people with years of experience in carpentry, stage design, and all other art forms that combine creativity with spatial awareness. 
Find top class bed frames right here at the IsoKing online store and get in contact with our friendly team if you have any further inquiries about our work.