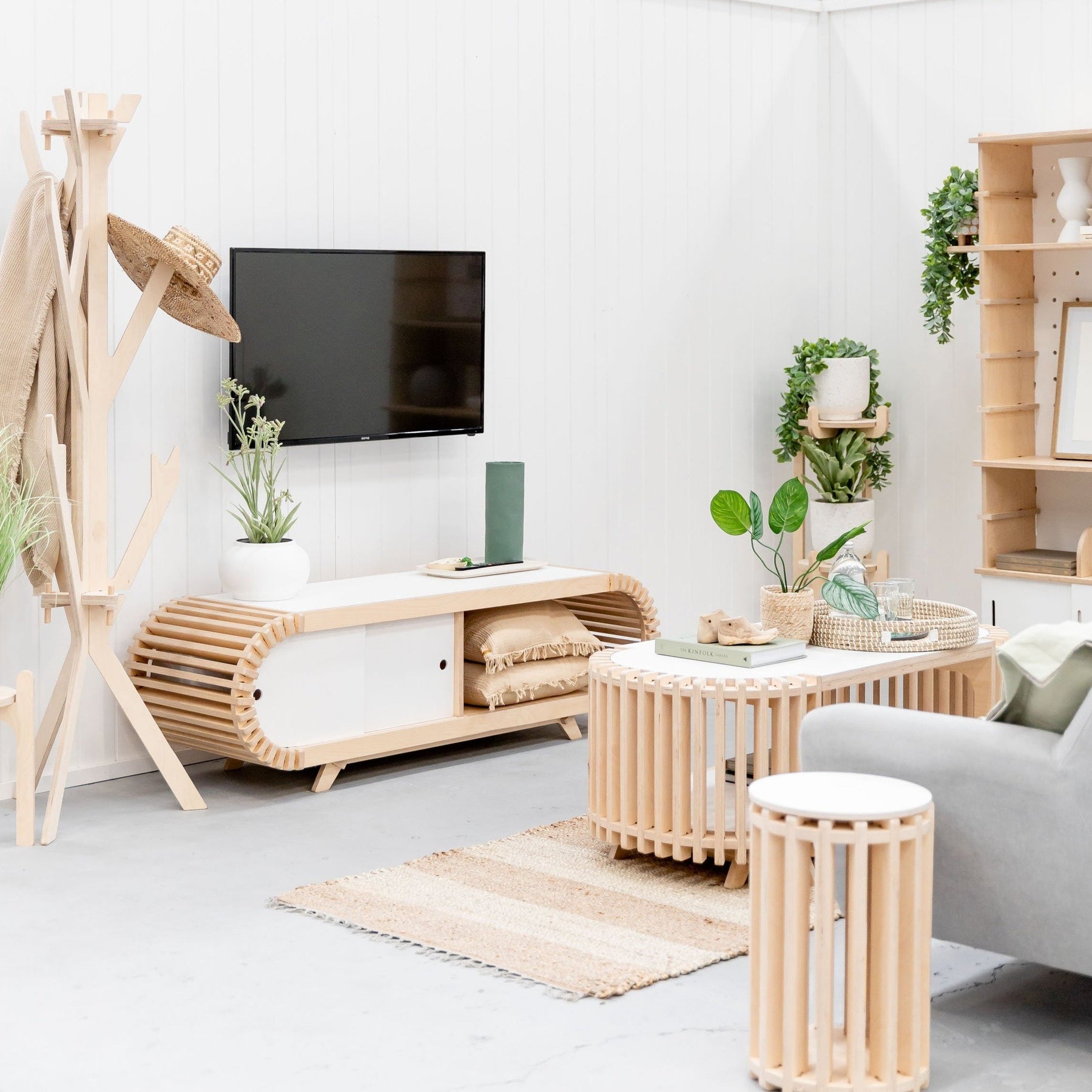 Wooden furniture is still very much in demand!
If the past year has taught us anything, it's that we want to uber cosy at home. If, at any stage of a lockdown, you found yourself despising that early-2010s aluminium coffee table and wanting to throw that cold steel bed frame onto the nature strip, you're probably not alone. 
Why? Because these materials don't make us feel at home, do they? Wooden furniture, on the other hand, is incredibly enriching, like a stylish, sustainable soul-enhancer. 
IsoKing, as Australia's newest and most creative (yeah, we said it), creator of wooden furniture, knows a thing or two about the benefits of this fabulous, sustainable material. We're all for the wooden bed frame, coffee table and bookcase, and we're here to shamelessly tell you why it's the way to go. 
This is why you should seriously consider wooden furniture for your next home livin' purchase.
Such outstanding strength 
Wooden furniture is made from solid, strong materials like raw birch and is designed to last. Why do you think you can still find wooden furniture from a hundred years ago lying around antiques markets? Because its sturdy materials and hand-coating make it such a reliable investment for your home. 
Not only does quality wooden furniture provide sensational value for money, if you ever feel the need to sell it (which we doubt you will), you can potentially get a price that is near or above what you paid for the original piece! Wooden furniture has that serious vintage potential, and fetches great prices when reselling.
Wooden furniture is simply stunning 
There is nothing quite like the warmth and feel a room completed with wooden furniture provides a home. Instead of making it cold with aluminium and steel furniture, which feels like it might ice your hand when you touch it, give your space a touch of much-needed warmth and comfort with elegant wooden furniture. 
What makes wooden furniture so stylish, apart from its materials, is the way artisanal designers handcraft beautiful pieces out of the wood. Finally, wooden furniture gives a home that touch of nature, something that is important for many city-livers, who often live in modern, high-rise apartments and want to get that closer-to-the-trees vibe.
It's easy to clean & maintain 
Wooden furniture is often hand-coated in high quality water-based polyurethane finishes, making it super easy to clean and maintain. Are you privy to a Sunday spent curled up in bed, watching Netflix and scoffing Uber Eats? Not to worry, it's easy to wipe down hand-coated wooden bed frames, so even the messiest burger spillages come right off without any trouble. 
Are you one to always overfill your coffee, only to watch it annoyingly spill out over the coffee table? Fuggedaboutit - wooden coffee tables are super easy to clean.
Wood is sustainable 
When properly sourced, wood is a highly sustainable material that doesn't go through the same eco-unfriendly processes as other furniture materials. For example, birch ply is a highly sustainable wood with a sourcing process that doesn't harm the environment - making it a winner for people who want to help the environment from the home out and do so in outrageous style.
Wood is incredibly versatile 
Wood, unlike many other furniture materials, is wonderfully versatile and can easily match any home setting. Wooden furniture, be it bed frames, coffee tables, bedside tables or book shelves, can blend seamlessly into both modern and rustic home settings, making it perfect for homeowners looking to create a homely, elegant atmosphere. 
Birch is a beautiful, light-coloured timber, that is great for placing in light-filled rooms - no more drab furniture, it's time to make your space bright!
IsoKing makes beautiful wooden furniture 
IsoKing is super excited to present our Florence range, a chic collection of raw birch furniture that is perfect for your modern or rustic home stylings. Our design ethos is based upon taking the finest, sustainable birch timber and using our artisanal skills to turn into something durable and incredibly stylish. 
The result? An awesome collection of sturdy bed frames, voguish coffee tables, beautiful bedside tables, modular shelving units and more. We love what we do here at IsoKing, and that is the design and handcrafting of high quality furniture. 
What's more, we're here to support Aussie artists, who have done it pretty tough in the past year, so a percentage of each purchase from the Florence range will go toward Support Act, a charity that supports talented Aussie artists in these difficult times! Enjoy high quality, stylish furniture whilst knowing you're helping some awesome artists in this trying time.
Check out the super stylish range here at IsoKing, finding all the wooden furniture you need to give your home that lovely, bright vibe that you've been looking to create.